Do You Have A Metal Sign Project We Can Help With?
Cast Metal Signs
Mayfair cast metal signs are the ideal addition for any establishment looking for a unique way to display their information.  These beautiful address signs will add a traditional, personalized touch to any home, cottage, farm, business, or property.  You may have to conform to the same restrictions as every other homeowner in your neighborhood but our customizable house number signs let you make it personal.  High visibility of your metal address plaque has never looked so beautiful or been so suited to the homeowner, no matter what style house you have.
Materials:  Solid cast aluminum with a baked on powder coated background finish.
Pricing:  Prices shown can change based on complexity of design and painting time.
We ship worldwide:  Quality takes time.  Signs are shipped approx 4 weeks from the confirmed order date.
Page Navigation
Click on one of the following links to jump to that section:
Sign Samples and Info
Arch Signs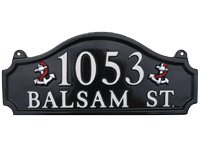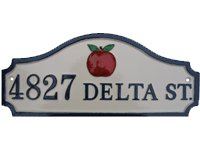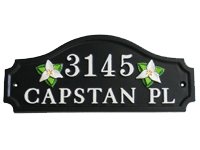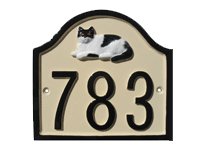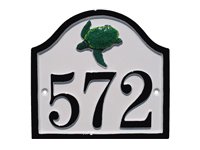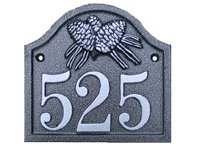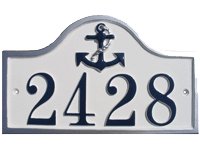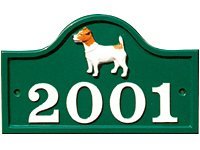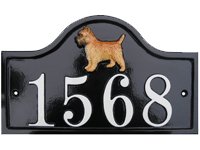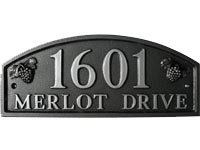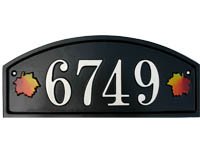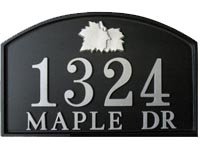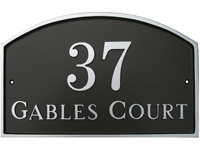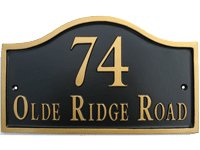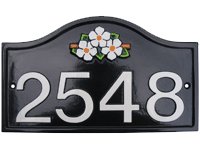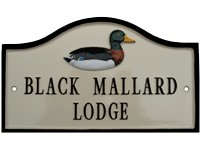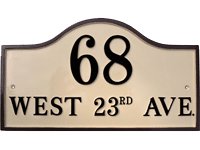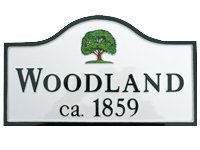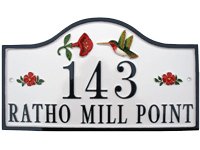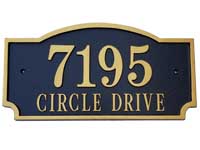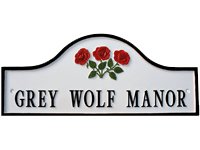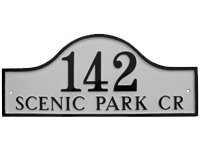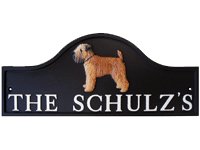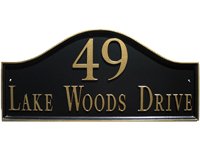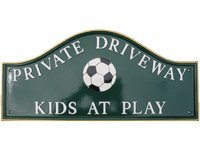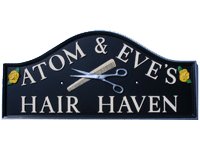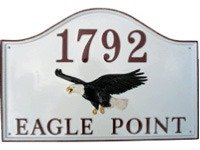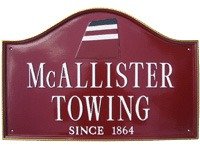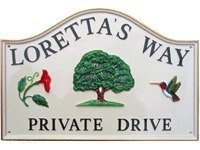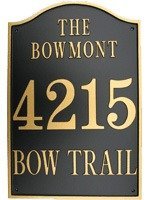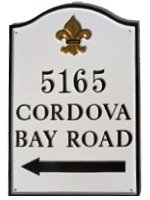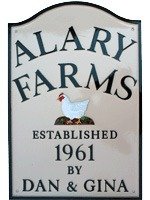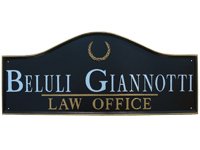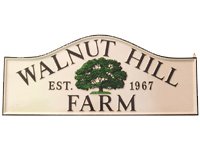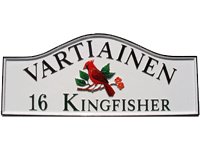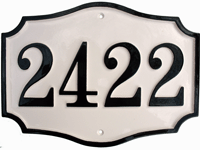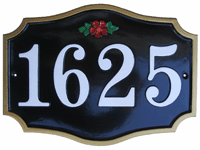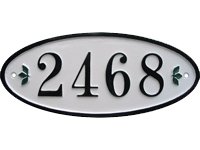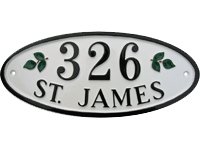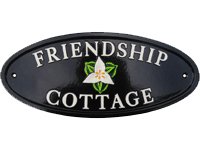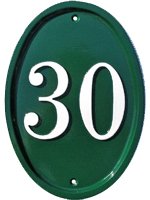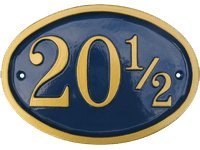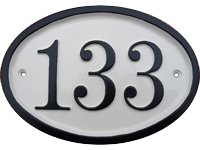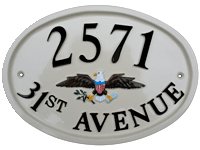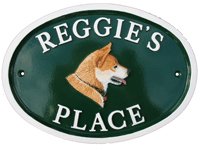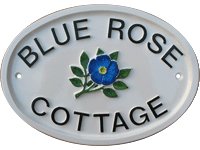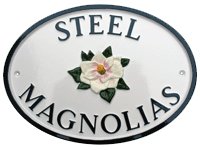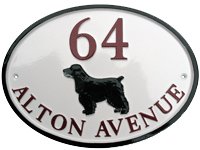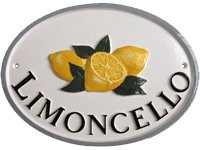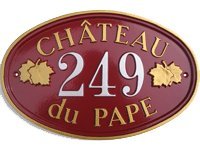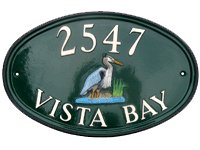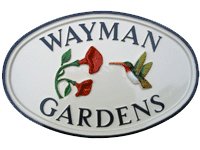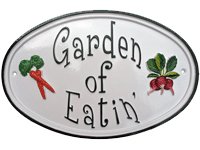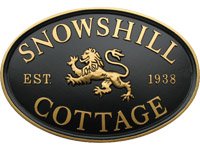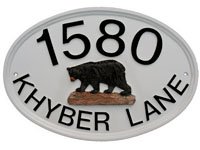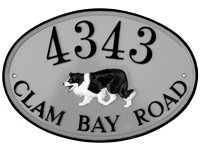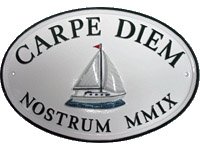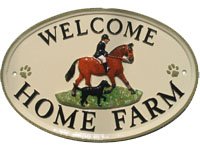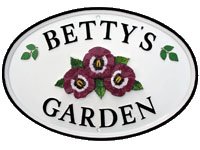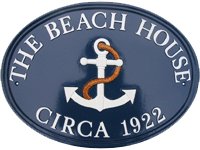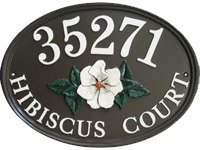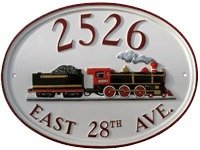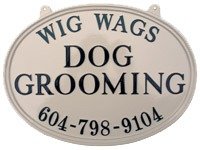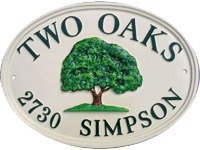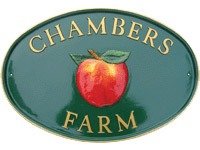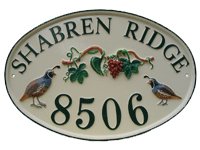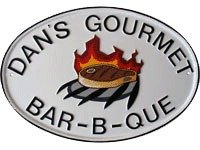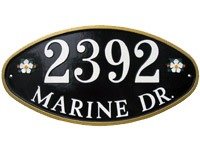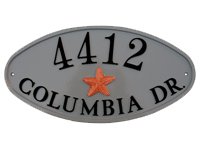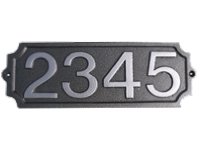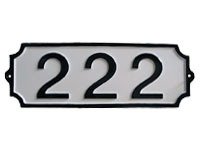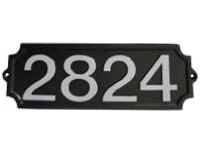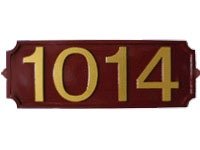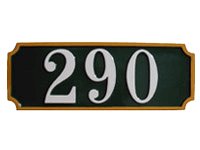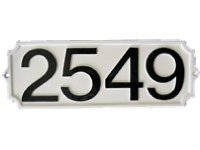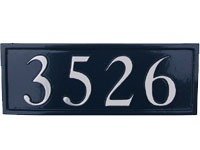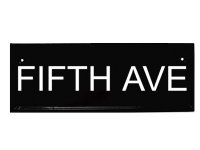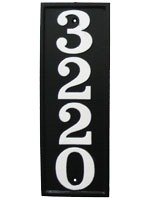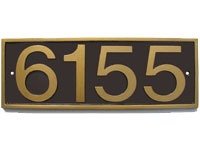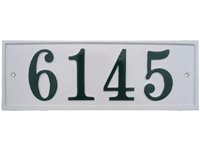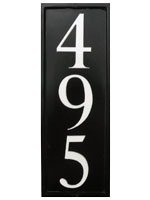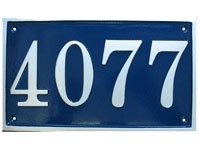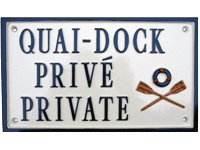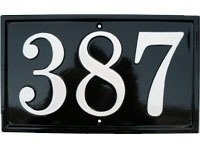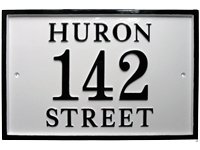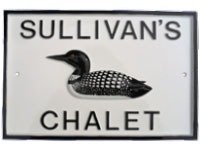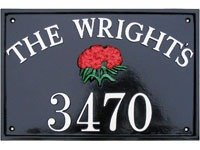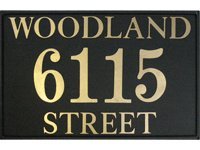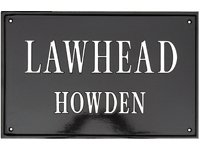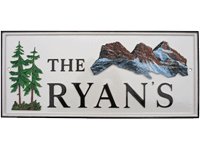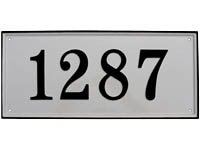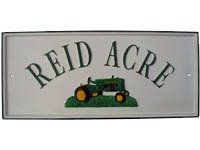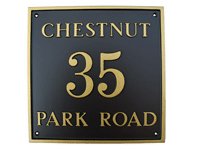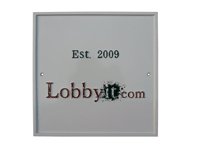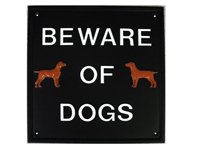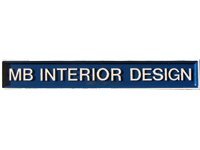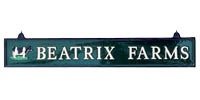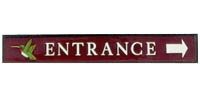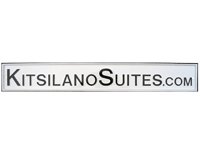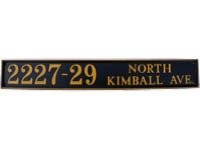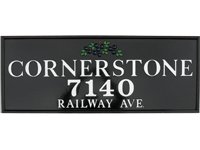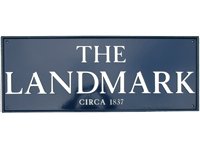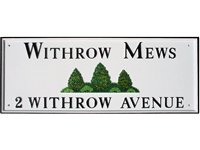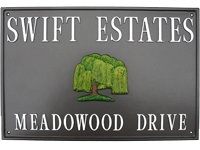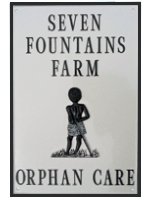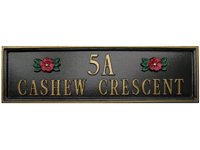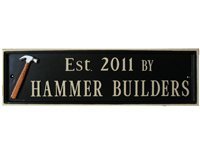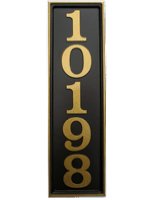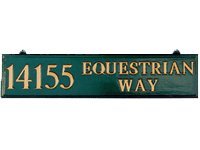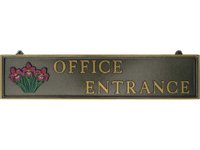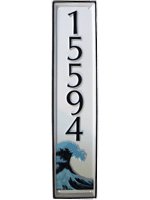 Bordered Signs
*CS series signs available in Clematis, Dogwood, Ivy, Maple and Rose borders*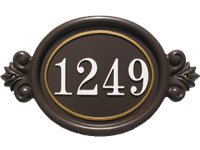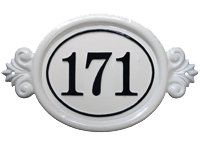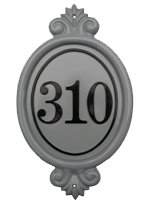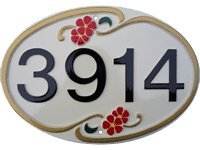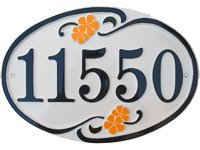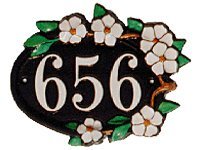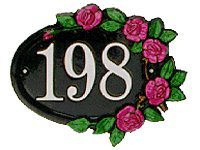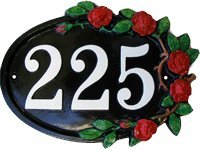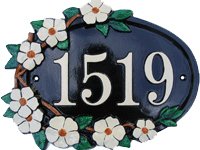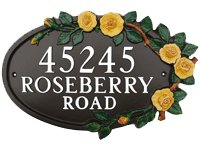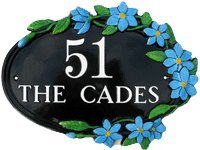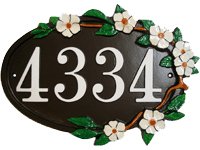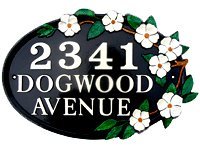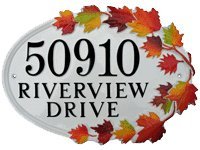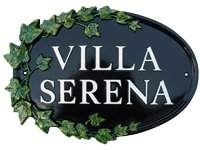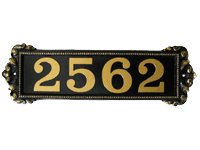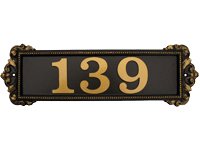 Commercial Size Signs
The following is a list of our current commercial signs.  Prices will vary according to complexity of design.  Please contact us for more info.
Prices start at CDN $2200.00 + shipping
Additional charges for large amounts of text and custom emblem work.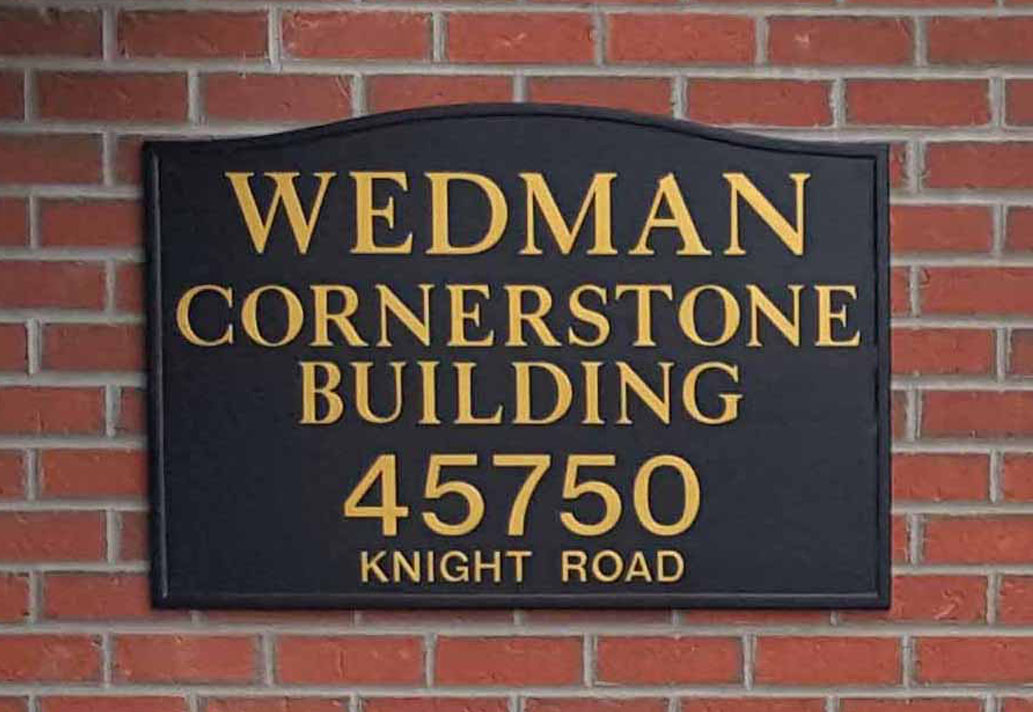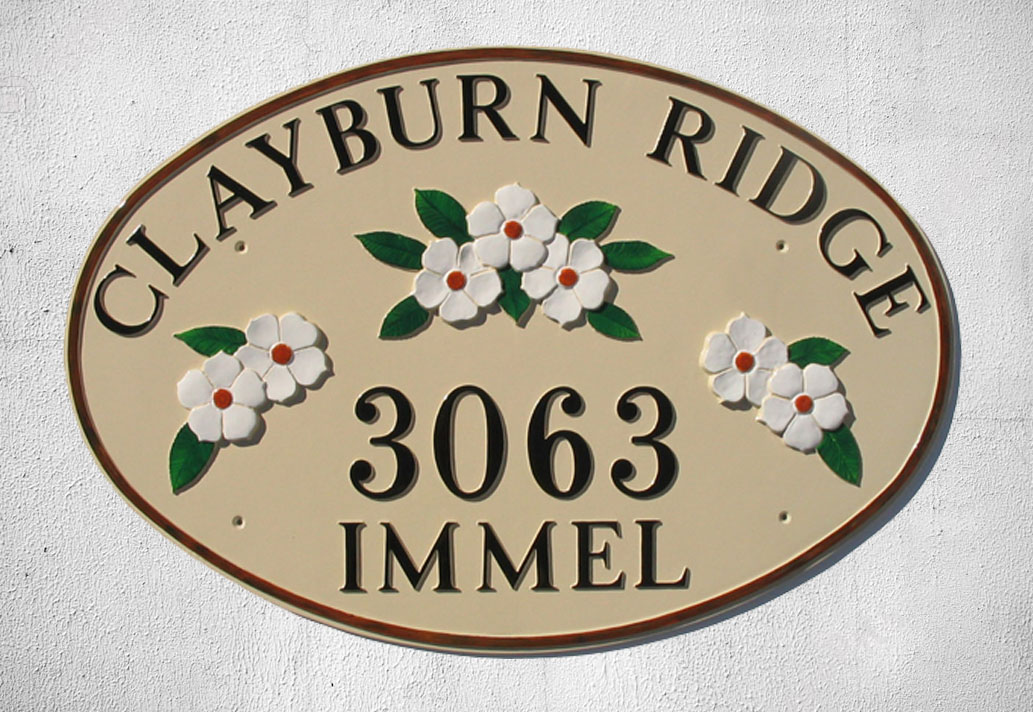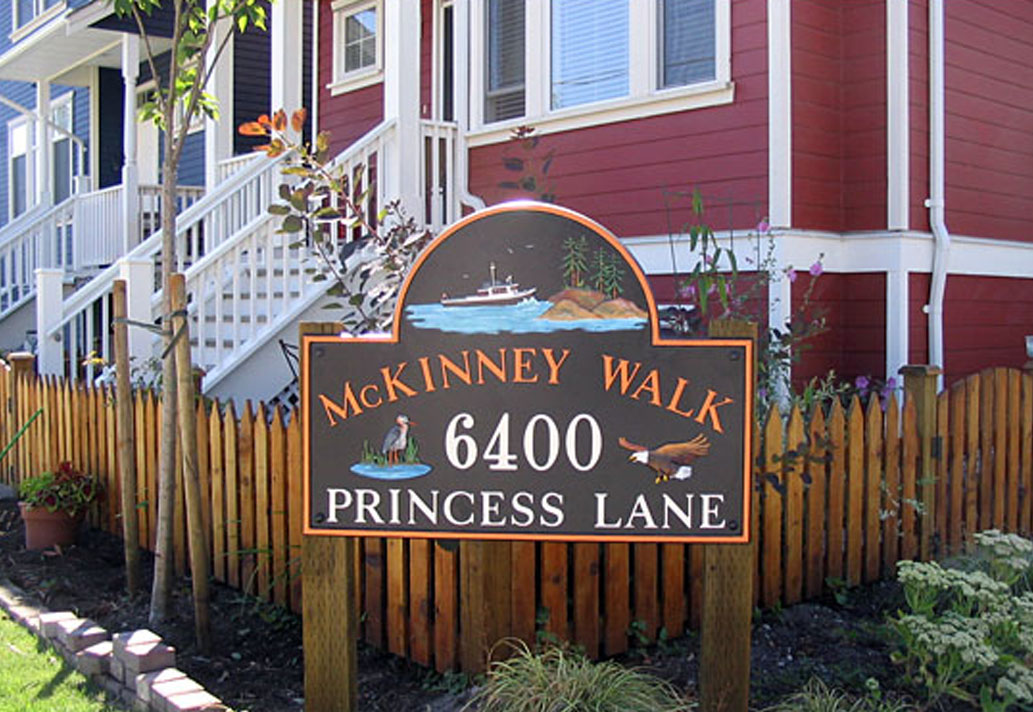 Background Colors & Emblems
All signs are powder coated with a durable baked on finish.  We provide powder coated screws to match the background of your choice.  Because the background is not a paint, we cannot match custom colour requests.














Horizontal mounting holes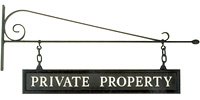 Hanging brackets come in four sizes and are powder coated black unless otherwise specified.
Chains & shackles are also powder coated to match.
Price includes extra shipping cost.
US $
Can $
Small Bracket (signs up to 12″ wide)
$80.00
$95.00
Medium Bracket (14–16″ wide signs)
93.00
109.00
Large Bracket (18–24″ wide signs)
123.00
145.00
Extra Large Bracket (signs over 24″ wide)
170.00
200.00
Two Chains and Two Shackles
10.00
10.00
Stakes for garden markers and pet memorials
Stakes are 18 inches long and powder coated to match your sign colour.  For any stakes longer than 18 inches please contact us for a quote.
US $
Can $
18″ Stake
$20.00
$25.00
Fonts
Choose from these font styles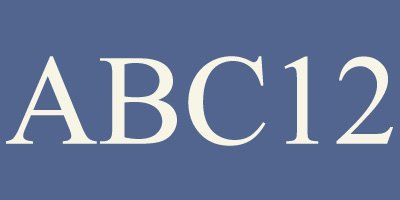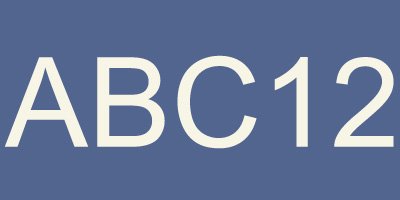 *Fonts can differ slightly from images
*Custom fonts available for an extra charge.  Please contact us for more information.
Sign Emblems
Emblems are hand-painted to your specifications. Please note that all emblems are not available in all sizes.  Also, not all signs support all emblem sizes.  All emblems are available in one or more of the following sizes:
Small (S): up to 3 1/4″ high
Medium (M): up to 4″ high
Large (L): up to 5 1/4″ high
Extra Large (XL): up to 7″ high
How To Order
To place an order by phone please call 1 866-823-4141.  You can fill out our sign request form below with your information and we'll get back to you as soon as possible.   We also have a printable order form below.  This can be scanned and emailed in.  Our printable order forms are designed for Adobe Reader.  If you do not have Adobe Acrobat Reader, you can download it here.    We confirm all orders and can provide mock-ups of your sign prior to production.
Sign Request Form
To get started on your sign please fill out the form and we'll contact you regarding additional sign information and payment options.